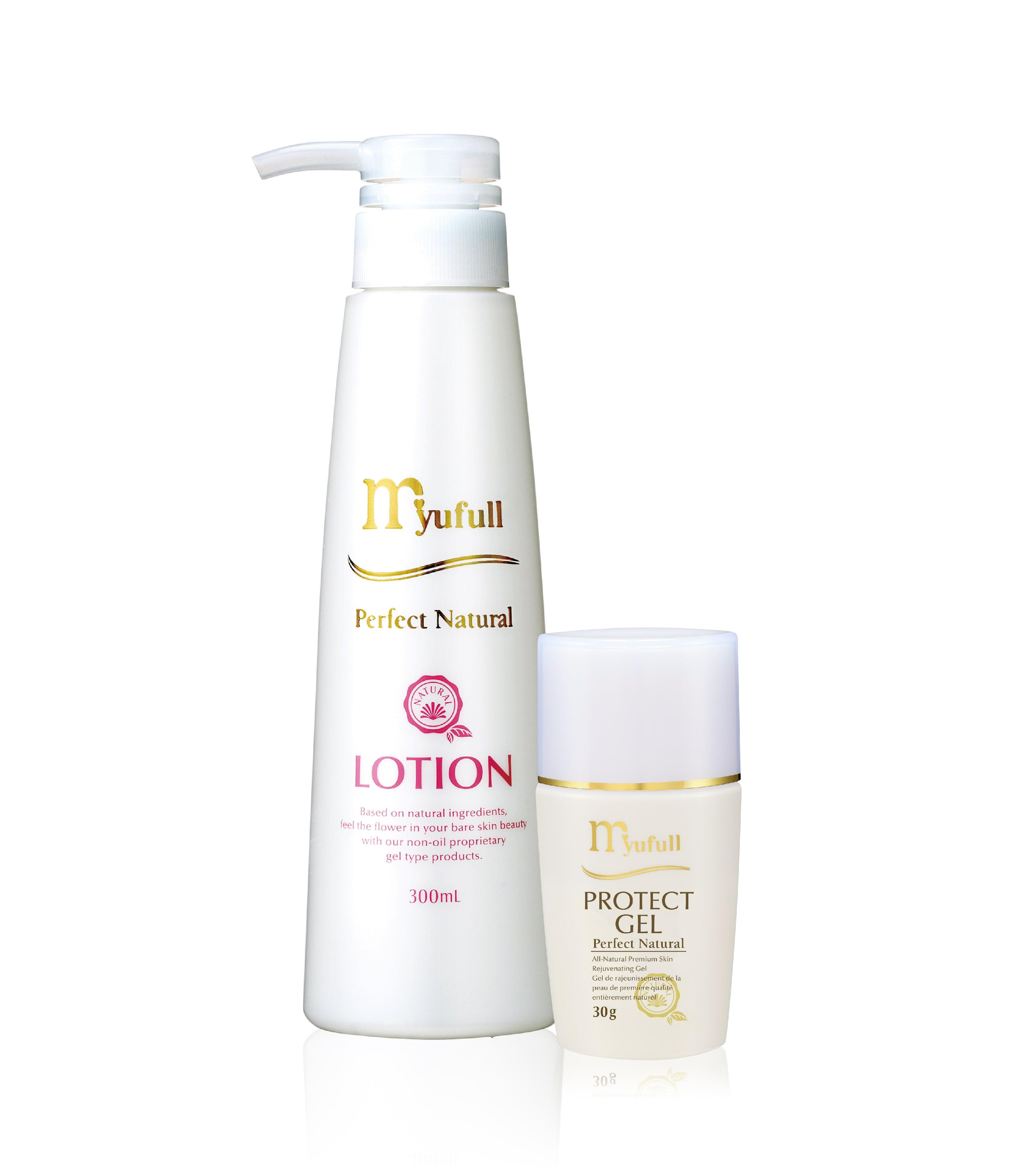 Advanced Sunscreen Bundle
Advanced Sunscreen Bundle
Shield your skin from the damaging effects of the sun while keeping it optimally hydrated with Myufull Advanced Sunscreen Bundle. Our ProtectGel sunscreen is specially formulated to provide sun protection while also nourishing your skin with vital nutrients to help prevent sun damage. The Epidermal Growth Factor Serum in ProtectGel assists in increasing cell turnover to eliminate blemishes and wrinkles while combating signs of aging.
Moisture and protection go hand in hand when it comes to keeping your skin looking and feeling its best. By using ProtectGel with Myufull Natural Lotion, you can drastically increase the protection and prevention of sun damage, sun spots, brown spots, and other visible signs of aging.
Invest in the health and beauty of your skin with Myufull's Advanced Sunscreen Bundle. Whether you're spending a day at the beach or simply going about your daily routine, our system provides the perfect balance of moisture and protection to keep your skin looking and feeling its best.
Instructions:
Step 1: Pour 2-4 drops of the Myufull ProtectGel into the palm of your hand. Alongside, dispense a 1/4 pump of the Myufull Natural Lotion into the same palm.
Step 2: For more details and instructions please click here for the simple 4 step daily instructions! Gently rub your hands together to blend the ProtectGel and Natural Lotion. Proceed by massaging this mixture onto the desired areas in circular movements, ensuring even coverage.
Step 3: Repeat Steps 1 and 2 for all body parts that require protection. For optimal effect and continuous coverage, we recommend reapplying the product every 4 hours.
By following these instructions, you'll harness the full benefits of the Myufull ProtectGel and Natural Lotion, providing your skin with essential protection throughout the day.
For more details and instructions please click here for the simple 4 step daily instructions!
We know you'll love our Myufull Skincare products as much as we do. In fact, if for any reason you're not completely satisfied, just return your items within 60 days of purchase and we'll issue a full refund.* 
Would you like a complimentary consultation? Click here to schedule one with our Myufull Skincare Specialist.
Sunscreen
Great sunscreen. My sensitive skin does not seem to react to it. I apply it on my face and neck. It is not very sticky and feels very light.
Sun protection at its best
My skin has always been very sensitive to sunscreens and I usually end up breaking out but these products being oil free have been a game changer! Absolutely love the way these products feel on my skin and so far no breakouts! Will be purchasing again.